The Video Interaction Project is an evidence-based parenting program that uses videotaping and developmentally appropriate toys, books, and resources to help parents utilize pretend play, shared reading, and daily routines as opportunities for strengthening early development and literacy for their children.
VIP sessions take place in pediatric clinics on days of routine well-child visits.  At each session, families meet individually with an interventionist for approximately 25 minutes.
Who developed VIP?
VIP was developed by a team of doctors, researchers, and child development experts, led by Dr. Alan Mendelsohn, as part of the Bellevue Project for Early Language, Literacy, and Education Success (BELLE Project) at the New York University School of Medicine.
VIP was designed to build parenting skills and self-efficacy in low-income families by utilizing and building on the Reach Out and Read Model using pediatric primary care as a platform for reaching high-risk families.
VIP 0-3 is designed for parents of infants and toddlers and has an additional component for families with children aged three to five (VIP 3-5).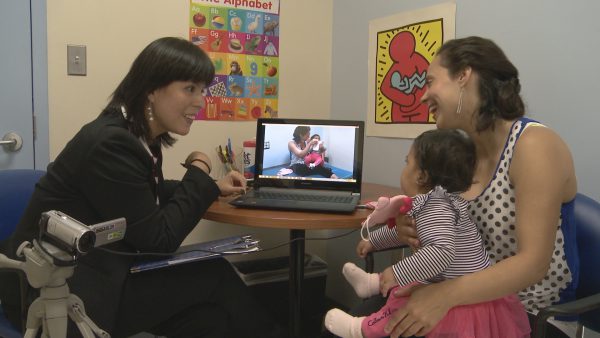 Impact of VIP 0-3
Rigorous research has demonstrated numerous benefits for children and parents who participate in VIP. When compared with parents and children who did not participate in VIP 0-3, parents and children who participated in VIP 0-3 have shown:
For Children:
Enhanced socioemotional development
Enhanced cognitive and language development
Enhanced parent engagement in reaching, play, and verbal interactions with their child
Reduced television exposure by young children
For Parents:
Enhanced parent engagement in reading, play, and verbal interactions with their child
Reduced maternal depression and parenting stress
Reduced use of physical punishment
Impact of VIP 3-5
Research into the effectiveness of VIP 3-5 is ongoing, but initial findings show additive impacts of VIP 0-3 and 3-5 on parent-child interactions and child development:
Enhanced reading, play, and verbal interactions in the home
Reduced behavior problems for preschool children
For more about VIP, please visit Alan Mendelsohn's VIP website